When most people begin thinking about permaculture, they immediately want to jump in to a "how to video", but those who have practiced it for a number of years understand the concepts and methodologies in permaculture must be precursors to action.  One of the things I appreciated about Geoff Lawton is that in our first session during my PDC (permaculture design course), he said,
"Thinking is a required set in an excellent design.  You should spend as much time here as you would in the actual execution.  Thinking requires you to observe.  For every hour of physical work, you should have 10 hours of thinking and observation."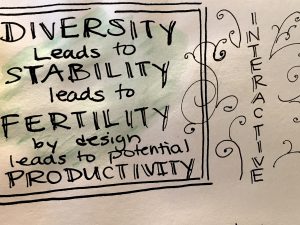 In essence, permaculture is a design system which not only meets human needs, but also improves the ecological health of our planet.  This notion design is not a mere concept, but it is an active verb that involves our interaction with nature.  We are not just managers of the ecosystem, we are active participants within the system.  Whether we like it or not, we are part of the system and have a profound impact on it (for better or worse).
Spheres of Design Influence
Bill Mollison, author of "Permaculture | A Designers' Manual", gives six distinct spheres of impact we have as we walk out the basic ethics and principals of permaculture design.
Building:  This sphere of influence involves structures and physical elements within our design, which can be either temporary or long-lasting.  Most structures we build have elements that impact a timeframe that outlives us.
Technology:  This includes modern tech (cellphones, apps, etc.), but also includes the advances in solar, wind, and natural energies that enable us to harness the power of nature in a sustainable way.
Education / Culture:  This sphere is centered on community and family.  The way we include the next generation and sow into the elderly in our community gives a fuller picture of family and embraces every season of life.
Land Stewardship:  This sphere is often the most emphasized because it's the most easily identifiable with sustainability.  It includes the use of land, air, and water around us to help a system grow and regenerate.
Finances and Economics:  This sphere enables families and individuals to be financially free and become responsible (contributing) members of society.  Permaculture does not encourage the "separatist" mindset, which is often based in fear.  Instead, it harnesses natural desire in humanity to provide for others and care for those around us responsibly.
Health and Spiritual Wellness:  This sphere is a very independent output, which is often an unseen product.  The spiritual and physical wellness of those who practice permaculture is both valued and desired.  Working with the land in this way often helps people who desire wellness in their mind, body, and spirit.
Many individuals want to only focus on one of these spheres of influence, but in order to walk out these principles in a healthy way, we need to have diversity in our expressions.  Diversity creates stability.  There is a need for all of these expressions in a healthy ecosystem. Likewise, there is a need for focused and developed expertise in each of these areas of influence.   As a result of using these methods of design, we find ourselves walking out the three tenants of permaculture:  earth care, people care, and fair share (Mollison 2-6)
Elements of Design
Mollison gives four distinct means of walking out these tenets and identifies them as the "elements of design" (36).
Technique is "one dimensional" in concept; a technique is how we do something.  Almost all gardening and farming books (until 1950) were books on technique alone; design was largely overlooked.
Strategies , on the other hand, add the dimension of time to technique, thus expanding the conceptual dimensions.  Any planting calendar is a "strategic" guide.  Strategy is the use of technique to achieve a future goal, and is therefore more directly value-oriented.
Materials (individual elements) are those of, for instance, glass, mud, and wood.
Assemblies are the putting together of the technologies, building, and plants and animals.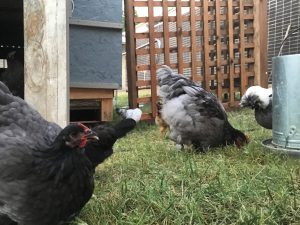 Once we understand the methodology, we can then explore the execution of the design, which most people want to prematurely jump into.  The result of this premature leap almost always ends in mistakes, missteps, and unnecessary amounts of work and heart-ache.  These design themes always dictate how we walk out our vision, whether for our properties or our lives.  The conversation of design has to first look at the foundational beliefs before it can explore execution of building.  Likewise, when we begin any design, we always explore soil first.  We must observe, watch, think, and ponder what is already taking place, so that we can insert ourselves into the system and help nature on the most regenerate and sustainable course.  This understanding is necessary for us to act and give back to the system we are a part of.   These are the foundational concepts in a permaculture journey, and are essential for using permaculture as a design science for both life and land use.